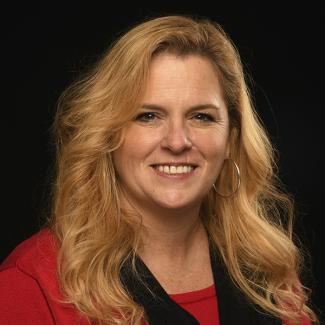 Contact Information
Department
Professional Communication
Position
Assistant Teaching Professor
Office Location
Holley A-111-H
Office Hours
Monday: 10:00 a.m. - noon
Tuesday: 3:00 - 5:00 p.m.
Wednesday: 10:00 - 11:00 a.m.
Laurie Lawrence obtained her PhD in communication media and instructional technology from Indiana University of Pennsylvania. She has previously worked at Stephen F. Austin State University, Penn State University, and Pennsylvania Highlands College.
Prior to her work in higher education, she successfully owned and operated a bed and breakfast in Erie, PA. She has also been the director of marketing for Prudential in the Central Florida region, the director of marketing for Arabian Nights attraction, and held the job title of Orlando's Shopping DIVA where she contributed to both regional and national publications.
Her research is primarily focused on human trafficking with regard to media effects, PSAs, and training evaluations for front line identifiers. Other research interests include social capital, conflict management, and intercultural communication.
She has presented at numerous human trafficking conferences as well as civic symposiums on the issue. Published works include a chapter on The Spoiled Supply Chain of Child Labor, in The Palgrave International Handbook of Human Trafficking.
She firmly believe in assisting students to discover their talents through exploring their experiences and developing them into passions. She strives to maintain a positive attitude, one that encourages students to see beyond their limits. Higher expectations often inspire students to reconsider their abilities and boundaries; assisting students in ascertaining opportunities to develop a self-efficacy both in their field of study and areas of interest. 
Curriculum Vitae (pdf)